Motomatch
Role: Copywriter
Purpose: Create monthly newsletters to drive platform sign-ups from two segmented target markets, namely car salesmen and consumers. 
PlatoScience
Monthly newsletter with PlatoGame launch announcement
Role: Copywriter
Purpose: Inform of latest company developments as well as educational content surrounding neurostimulation.
PlatoScience  
Role: Copywriter 
Purpose: Educate and drive customers to the website through PPC funnel marketing
Frogfoot Double Up Fibre Campaign

Vox Telecommunications
The Double Up campaign was a hugely targeted social media campaign with a substantial advertising budget. The offer provided customers with an automatic upgrade on their current fibre speeds to double their current line speed for no extra cost. 
The campaign was open to new and current orders. This campaign also happened to coincide with the Covid-19 threat where South Africa was sent home and into lockdown. Customers had to work remotely if they could and fibre provided the main source of their at-home entertainment in the form of homeschooling, HD streaming, VoIP calls, video conferencing, to name a few. 

The campaign ran for 3 months and required an aggressive Paid Media push as well as community posting, radio segments and Google Adwords.
Vroomf AI Chatbot
Role: Copywriter
Our goal with Sugarbird Fynbos Gin was to bring awareness to a proudly South African gin that not only used homegrown ingredients but also funded female entrepreneurs all over South Africa. 
This awareness would generate the growth of the company through Thundafund where a rewards package was offered to patrons. The crowdfunding campaign gained massive traction with SA media and broke a rewards-based crowdfunding record in South Africa, previously held by Afrikaans rock band Fokofpolisiekar. Total raised reached R1 086 703.
Mo' Low Low Price Birthday
The Shoprite Mo' Low Low Price Birthday was all about identifying and targeting our market's idea of pop culture. Inspiration was derived particularly around the 'Gqom' music and dance scene which related perfectly to our audience. Messaging was focused on Mo' Deals, Mo' Value, Mo' Savings which is our audience's main concern when shopping.
We went a step further by introducing an Instagram Story to drive engagement and campaign awareness. Users could make their own Mo' Low Low Price Birthday tune as we transformed them into an 'Instant DJ'.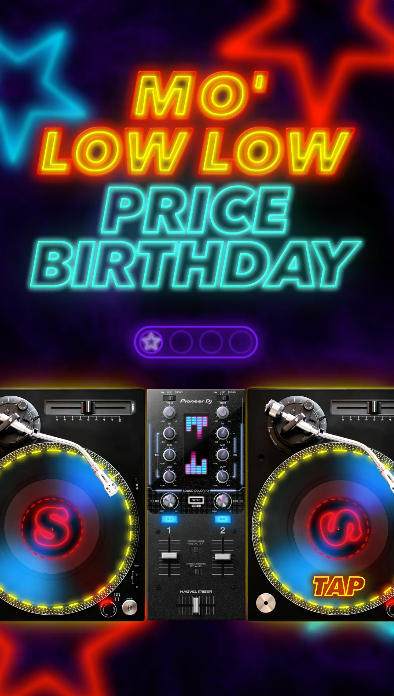 This campaign presented a challenge as we had to generate brand loyalty using food stamps which were limited to certain products. A total of 10 collaborating products had to be purchased in order to receive the deal.
We approached this with the crafting of a Moola Mania Game which explained the campaign mechanism by actually dragging collab products into your basket in the time allowed. The Moola Mania Game was well received by our audience with massive engagement. I believed it was due to our decision to host it on a microsite making it low on data.  
Users also had two opportunities per day to receive either an instant prize (airtime and shopping vouchers) or an entry into the weekly draw of R5000 which ran for 6 weeks. 
Our customers needed to be reminded of the full range of our baby department. We catered for not only newborns but also infants and toddlers too. 
We are talking to mothers with babies at all stages of infancy and realised we needed to break up the life stages to target the correct mother with the relevant information. 
We wanted to shine a light on expectant mothers and provide them with the necessary information and help before the arrival of baby. 
Expectant mother content focused largely on recipes for increased lactation as well as preparing meals for the individual age groups. We introduced a Baby Hub which is an advice page or a platform for "what to expect when you are expecting" that eases the mind of our expectant Mommy-to-be shoppers.
Ke Dezemba Boss! Our Christmas campaign was all about living that unique December holidays lifestyle. Our messaging amplified the brand as the facilitator and hero so you could live your best life and celebrate even more whilst still paying less. 
This campaign was all about keeping the energy and good feels going throughout the festive season to mark the brand as the only place to get all your Festive Season goodies.
Think Digital 
Online Homeschooling
Role: Copywriter